Map of Campground
Here you can view an image of the Jubalee Beach Park campground which shows the lots on the property.
If you have any questions about the campground, please be sure to contact us.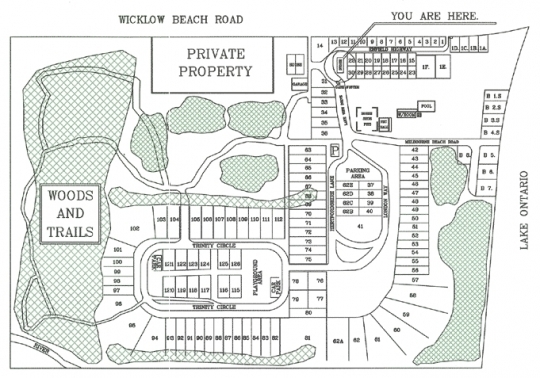 "Jubalee Beach Park is like no other family campground in Ontario. Once you enter the gates it's like a whole new world. Not only does it boost all the amenities, it also has large, beautiful lots where you can entertain family and friends, your own personal fire pit, on site store for your convenience, swimming pool, as well as a playground for children and many planned family activities. As well as a private beach over looking lake Ontario where you can swim, boat or just walk on the beach. The owners Barry and Marilyn Barnes, along with amazing campers, will make you feel like family, you will make wonderful friends and life long connections. Come see for yourself, it's a great place to fall in love all over again."
-Charlene Janes
Site #50